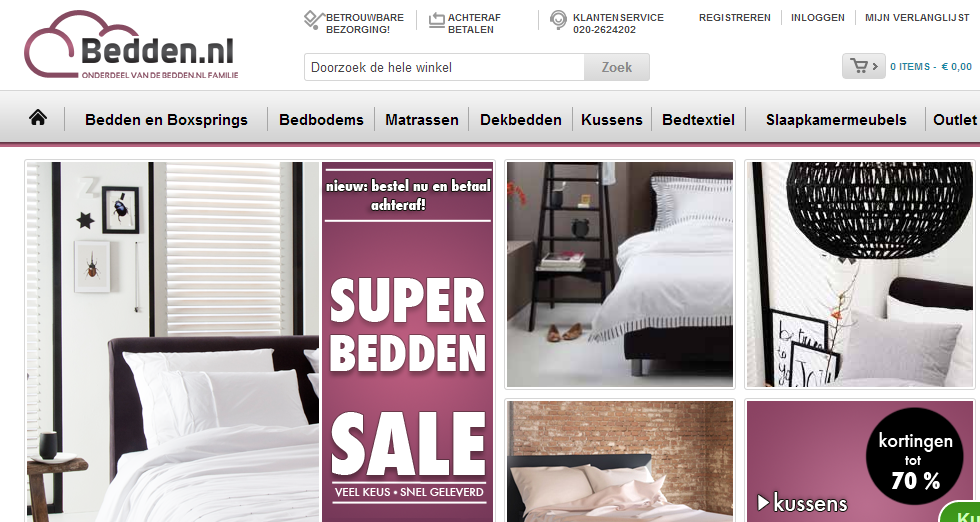 Lekker, goed en lang slapen dat wilt toch iedereen. Een goed bed, een fijn kussen en een mooi dekbedovertrek helpt hierbij. Want hoe fijner het bed, hoe beter je lichaam kan uitrusten. Dit willen we toch allemaal!
Bedden.nl
biedt consumenten in Nederland en België bedden en slaapkameraccessoires aan voor een betaalbare prijs.
Of het nu gaat om een strak design bed, een boxspring matras, een heerlijk vier seizoenen dekbed, orthopedisch kussen of een lekker warm plaid.
Bedden.nl
heeft het allemaal!
Bedden.nl
is constant bezig met de verbetering en uitbreiding van de producten en service.
Je kunt goedkoop een bed kopen van hoge kwaliteit met tot wel 70% korting
Alle producten hebben een zekere kwaliteitsgarantie ( minimaal 2 jaar garantie)
Bedden.nl
verkoopt diverse merken; Lief Lifestyle, Cinderella Bedding, Silvana, Dico, Polydaun fris ontwaken, Ducky Dons, Dunlopillo, Duvet Doré donzen dekbedden, Van Landschoot, Dream, Primaviera Deluxe, Damai, Mood Collection, Sleep-Time
Bestellen is heel eenvoudig
Kies een product uit het uitgebreide assortiment.
Klik op '' aan winkelwagen toevoegen''.
Ga naar de online kassa.
Vul uw gegevens ( zoals afleveradres ) in.
Controleer uw bestelling.
Kies uw gewenste betaalmethode.
Klik op bestelling bevestigen.
Zodra uw bed is klaargemaakt voor verzending ontvangt u een e-mail met een link naar onze bezorgkalender. U geeft hierop zelf uw voorkeur voor een dag waarop er mag worden uitgeleverd.
Uw product wordt zo spoedig mogelijk bij u thuisbezorgd.
Levering
Klein pakketje: 1 tot 3 dagen. Je betaalt verzendkosten
Grote producten: 3 tot 5 dagen. Je kunt kiezen uit drie typen services.
Je kan tot de deur laten leveren, tot aan de slaapkamer en tot in de slaapkamer + montage. Uiteraard vragen ze hiervoor een apart bedrag.
Mijn favorieten van Bedden.nl
Ledikant Jolien € 604,95
http://www.bedden.nl/ledikant-jolien.html
Sprinkle sierkussen € 20,95
http://www.bedden.nl/sprinkle-sierkussen.html
Sydney sierkussen € 27,95
http://www.bedden.nl/sydney-mauve-45x45-cm-sierkussen-kopen.html
Lekker slapen dat wilt toch iedereen!
Bedden.nl
♥ Annemieke
Dit bevat een gesponsord artikel