Je vakantiehuis is een tijdelijke Home Away From Home. Daarom moet het bij voorkeur een huis zijn dat dat voor jou overtreft.
1. Noorse blokhut
De Noorse experience is er een van zalm vissen, bubbelen in de buitenjacuzzi en warm worden bij de openhaard. Dit kan allemaal op Engholm Husky Farm. Lodges van lokale materialen en vooral in de winter levert al dat hout een gezellige sfeer, maar ook in de zomer is een avondje hangen in de zelfgemaakte stoele op de veranda een belevenis.
http://www.engholm.no/
2. Torenwoning in een Duits kasteel
Een klein hertje die komt aanlopen, op zoek naar eten. Het hoort allemaal bij de sprookjeservaring als je de torenwoning boekt in het Duitse Slot Möhren in de deelstaat Beieren. Geniet van de unieke ervaring of anders van de wellness mogelijkheden in de omgeving.
http://www.schloss-moehren.de/
3. Engelse strandhuisjes
Oorspronkelijk bestond deze organische melkveehouderij in Devon uit drie boerderijen. Nu vormen ze samen 1 groot landgoed, waarop verschillende huizen worden verhuurd. Het klassieke Lambside house biedt plaats aan veertien personen. The Mews - de oude stal met het bad op pootjes- aan drie personen en de Herdershut aan zes. In de dromerige Beach hut, op het strand, slaap je met zijn tweetjes. Zonder elektriciteit maar met een bbq.
http://www.carswellcottages.com/
4. Frans huisje tussen de boomhutten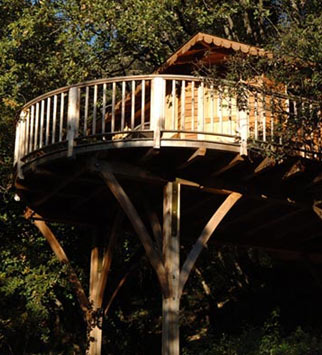 Op het terrein vind je de leukste boomhutten uit Europa, compleet met stijlvol interieur. Wie liever op de grond slaapt, kan in het bijbehorende stenen huis terecht. Met zijn lichte witte interieur, zonnige terras en snoezige open keuken, wil je hier ook nooit meer weg. Het dorp St. Paul de Vence ligt aan de Côte d`Azur.
www.orionbb.com
5. Limburgs weekendhuis
In het noorden van Limburg vlakbij de Duitse grens, staat een met brocante en kunst ingericht jaren vijftig huis, midden in de dorpskern van Broekhuizenvorst. De zon verlichte woning is je thuisbasis om de omgeving te verkennen per fiets, de Thermaalbaden in Arcen bezoeken of winkelen in Düsseldorf.
http://www.hethuisdejoffers.nl/
♥ Annemieke